Roya's Media Coverage Highlights
r0yart Curated for Women's History Month on Superrare
Women's History Month originated from the celebration of International Women's Day. International Women's Day is a globally recognized holiday that has come to be celebrated annually on the 8th of March. This day each year offers a time to celebrate and commemorate the cultural, political, and socio-economic achievements of women throughout history.
Looking at the art market today, female-identifying artists still only occupy roughly 3-5% of major permanent collections across the USA and Europe. Superrare chose to support female artists and r0yart was selected to exhibit her artwork based on her strong feminist voice, mentorship of women, and focus on gender equality.
View this article and the curated artworks on Superrare.
Tech Times Features r0yart
After taking the dive into NFT art, Tech Times writer David Thompson landed on r0yart and wanted to know the story behind her striking yet mysterious artworks featuring nude yet not explicit women. In this beautiful article, he uncovers a little of Roya's past and how she found her way into the world of cryptocurrency and digital art.
If you'd like to learn the basics of Roya's journey, this is a perfect place to start! The artwork featured in this article is currently owned by one of the most well-known and expansive collectors in NFTs, UnknownCollector, who Roya thanks for his support.
Read the article.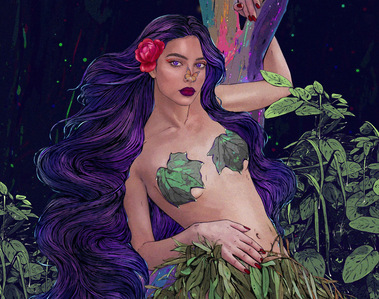 World of Women Selects r0yart for Official Art Collaboration
World of Women is known as the leading women-owned and lead NFT project in the World. Founded by Yam Karkai, a female artist and entrepreneur, WoW is dedicated to helping the advancement of women's rights and gender equality through its WoW Fund and other incredible initiatives.
Roya was contacted by WoW's head of art curation to participate in their Season 6 Art Collaborations, for which she created two commissioned artworks. Her 1/1 artwork "GAIA" was minted to Foundation and holds the record for the highest grossing auction of a WoW collab artwork. Her airdropped artwork, created in the style of her Bloom with Grace collection was airdropped to over 4,500 wallets and is one of the most viewed artworks on World of Women's Opensea collection.
Disrupt Magazine Writes Up r0yart
This thought provoking article written about Roya's artistic style in the broader context of her upbringing is featured in one of Latin America's leading educational publications for entrepreneurs. This article digs into the stimulus behind r0yart's message of equality, while also discussing the global access to the necessary tools and information required to become successful in today's digital and web3 world.
Disrupt is known for bringing some of the most influential voices in business, art and culture to places that otherwise would scarcely have access to such inspiration. Roya joins the likes of Grant Cardone, Les Brown, Tai Lopez and many other incredible success stories which Disrupt has captured to help their readers find success.
Read the Article or r0yart's Tweet about it.
Roya's Interview with "Total Girl Boss"
It's no secret that men receive the lion's share of revenue when it comes to the art world, and it's no different in NFTs. This interview with r0yart looks at the new generation of young women that are making a name for themselves in the new digital art renaissance and talks about the importance of using your voice as a force for what you believe in.
At the root of her art, Roya creates powerful feminine figures enriched with meaningful symbols of transformation and growth. Her art is and always will be her primary vehicle for making change in the world. But as she explains in this interview, it is not the only way she makes an impact, as sharing her story and personally coaching and mentoring young women has become an increasingly important aspect of her work.
MINTED to Include r0yart as a Featured Artist
'Minted' is the first ever book about prominent artists who minted their creativity on the blockchain in 2021.
Inside the Minted book you will read the stories behind the art from a stunningly diverse range of artists including illustrators, photographers and coders including Roya Ghassemi.
Each artist featured in the Minted book stands out in the NFT space as a leader and pioneer in this new renaissance of digital art. Explore their brilliance through the art minted on the blockchain, that is available for acquisition for your own digital gallery.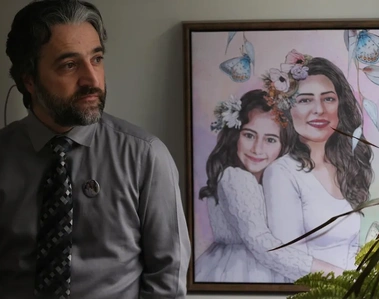 Roya Ghassemi Supports PS752 Victims with Her Art
When Roya heard about the devastating attack of Flight PS752 in Iranian airspace, she felt ill and was devastated by the resulting images of the wreckage. As the days went on, she continued to feel so badly for the family members of the plane crash victims and she decided that she would help in the small way she could: by making beautiful artworks of the deceased for their families.
In this article, bereaved husband and father Dr. Hamed Esmaeilion speaks out about the tragic act of terrorism. He has made several television appearances and conducted many interviews, always with the beautiful portrait of his late wife and daughter in royart's style.
Story Console Interviews r0yart for Miami New Times
In the wake of the news about r0yart's inclusion into the 2022 Miami Art Basel in December, Story Console reached out to Roya to write up a piece about her artwork that will be on display and take a deeper look at how her career has come to this point. It is amazing, the power of aligning with a greater mission while also finding yourself at the precipice of a new technology that has worldwide adoption.
This is far from the first exhibition Roya's artwork will have been included in, however it marks a special significance for her because she has always looked at Art Basel as a pinnacle achievement in the world of current art - and Miami is leading the way in digital art exposés both in America and probably the World.
Read the Article.
r0yart Joins Superrare Exhibition to Support Ukraine
Roya, along with several other artists on the NFT platform Superrare launched a special exhibition of artworks that will see proceeds going to various causes in support of those affected by the devastating crisis in Ukraine.
The featured creatives include r0yart, Krista Kim, XCOPY, Olive Allen, Camibus, Synchrodogs, Lorenzo Quinn, Louis Dazy, Niro Perrone, Mark Constantine Inducil, Flora Borsi, Victor Fota, and Fabio Catapano. Working across digital mediums like video, animation, drawing, and photography, the sale of works will see proceeds given to the likes of Unchain Fund, the Ukrainian Relief Fund, Save the Children, The Ukrainian Red Cross Society, Nova Ukraine, Wonder Foundation, and Sunflower for Peace, among others.
Read the full articles here and here. See on Superrare here.
Sandbox Belonging Week Exhibition Article
Roya has been selected to be featured on exhibition inside the WoWFund Museum for belonging week!
Belonging week is a celebration of inclusion and equal rights for all humans, and as r0yart is a committed and outspoken activist for Women's Rights, he artwork was purchased by the WoWFund (World of Women's private curated art collection) and is now live in the gallery space inside The Sandbox's World of Women Museum.
"With inclusivity at the core of their mission, World of Women presents a breathtaking exhibit showcasing outstanding Web3 artwork. Built in partnership with Nabiya, explore the collection and discover new artists with this technical marvel inside The Sandbox."
You can read the full Medium article here.
Mintface r0yart Exposé, "Free Being"
Roya was contacted by Mintface.xyz to have several of her artworks and some of her collected NFTs featured in an exposé, entitled Free Being, of her story as an artist and career in digital art.
Inside, she explains her take on the PFP phenomenon as it exists in these early days of the Metaverse, and goes into some detail on her admiration of and affiliation with World of Women.
Some of her artworks included in this article are The Art of Eye Contact, Night Goddess, Nyx, Passion, Eleutheromania, and Her Wings Unfolded.
Read the full article here.
Roya Ghassemi Selected as Main Curator for NFT Liverpool 2022
NFT Liverpool is the largest exhibition of digital artworks in Europe in 2022, and r0yart was selected as a main curator of the event as well as a featured artist.
Roya was given the task of selecting over 100 digital artworks from tens of thousands of submissions by artists spanning the globe, along with other curators such as Paris Hilton and PAK.
As an artist, she was selected by the President of Time Magazine, Keith Grossman to have her artwork "Dreamland" featured. She was also selected by a second curator, Hush, to have her artwork "Cari" on display at the flagship event.
Read the full lineup of curators and learn more about the event here. Read an article about the event and its curators here.
r0yart Becomes an Opensea Verified Artist
The internet is full of so much content and people today, it can be difficult to know what's what. Unfortunately, there are many imposters attempting to defraud people by impersonating famous people in every industry, NFTs included. This is why Opensea created their "verified artist" badge for the top artists on their platform.
Roya Ghassemi (r0yart) was selected to become a verified artist on the world's largest NFT platform, bringing additional security to her collectors and admirers. Not just anybody can become verified though, as there are minimum requirements published by Opensea for this accomplishment, such as a minimum of 100 ETH in sales for your collections (approx. $400,000 at time of writing).
Visit r0yart's Opensea page here, learn more about becoming a verified artist on Opensea here.